Announcements
Sixth Street closed today between Burford Circle and Public Safety Circle
The closure will last until 1 p.m. for placement of a crane.
Get ready for the holiday season with Kenny Rogers
Kenny Rogers is coming to Hulman Center Monday.
Alumni Profile: The Ahlemeyer family
The family counts 9 educators among its Indiana State alumni, at least two business owners, an attorney, a World War I veteran and three World War II veterans.
Newsroom
'No one left behind': Women of the World program creates opportunities for fun, exercise
The specialized activities for women, which began this fall, are part of the Center for Global Engagement's mission to be inclusive and sensitive to the cultural nuances of the student population it serves.
'Project Runway' contestant to MC fashion show, offer one of her creations for fundraiser
Helen Castillo, who has twice competed on the Lifetime television show "Project Runway", will serve as master of ceremonies for the show and offer one of her designs as a raffle prize for the event, which serves as a scholarship fundraiser.
Indiana State student gains strength during study abroad in South Africa
On his way to change the world, senior Bryant Clayton plans to pursue graduate school once he completes his interdisciplinary degree in cultural communities studies this spring.
New partnership to boost unmanned systems research, pilot testing
Indiana State and Precision Hawk have announced research and development partnership.
Summit offers Indiana teachers valuable early literacy strategies, research
The Power of Reading Summit was made possible with a $44,000 Duke Energy Foundation grant and was co-hosted at Indiana State by the university and the Indiana Department of Education.
Photo of the Day
Video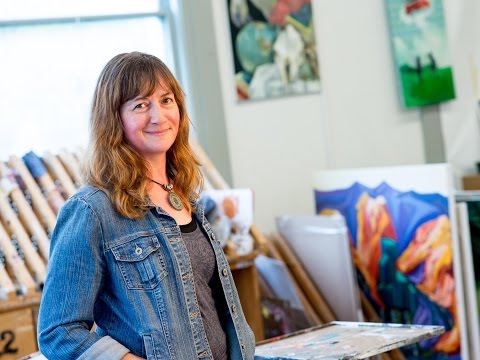 Through The Eyes of An Artist
As child growing up in Alaska and Maine, Nancy Nichols-Pethick would spend much of her time exploring the outdoors, whether it was building a dam with rocks or making creations from clay. That relationship to the natural world still influences her art.
The Office of Communications and Marketing produces ISU Today, the daily electronic newsletter for Indiana State University. ISU Today is provided to all faculty and staff via e-mail. Students and friends of the university may subscribe to ISU Today. Submission and subscription information »
How do I find previous ISU Today postings?
To find items which have been previously posted in ISU Today, search through the ISU News Search.